Located just four miles west of Boston, Brookline, Massachusetts is an affluent, picturesque community and a major cultural hotspot. Besides being known as the birthplace of John F. Kennedy, the 35th president of the United States, Brookline is a magnet for its vibrant dining and entertainment scene. Both Brookline residents and visitors from all over, including from the neighboring towns of Newton, Needham, Brighton, and Fenway, flock to the area for the vast number of restaurants to enjoy.
Many of these establishments offering outdoor dining experiences are just steps away from Brookline luxury homes for sale. Whether you want to go out for a drink with friends or treat visiting relatives to a family-style meal, Brookline has options to fit your needs. Plus, covered outdoor seating with patio heaters is increasingly common, ensuring a pleasant dining experience, even on a cool day in spring or fall.
Ready to jump on the T (Boston's iconic transit system) and head to Brookline for a memorable meal? Check out this list or an amazing variety of outdoor dining choices to consider.
Stoked Pizza Company
When you want to enjoy authentic pizza enjoyed by visitors and residents of nearby Brookline condos alike, you won't want to miss out on
Stoked Pizza Company
. This local favorite offers a selection of 11-inch individual pizzas made with local produce grown from seeds the owners brought back from Italy. Stoked Pizza possibilities range from pies as simple as meatballs and ricotta cheese or as complex as "The Porky" — a meat lover's delight with bacon, pepperoni, and hot Italian sausage. They also have gluten-free dishes and vegan options, including Impossible Burger substitutions. With an eclectic drink menu and a full menu of appetizers, you're sure to enjoy your outdoor dining experience conveniently adjacent to the Washington Square T stop.
Bar 'Cino
Open nightly for dinner and cocktails,
Bar 'Cino
is an informal dining location that provides indoor and outdoor seating. They offer a wide variety of dishes to consider — from salads and pizzas you can enjoy solo to bruschetta and shared plates for a night out with friends. Choices include a family-style dinner option with salad, entree, and dessert that will serve four to six people. Private dining for up to 22 guests makes Bar 'Cino the perfect spot to host your next party or gathering after enjoying your meal in their alfresco dining space right across from Saint Mary's T stop.
Anatolia Buffet & Kebab House
Located in the heart of Brookline Village,
Anatolia Buffet & Kebab House
offers a wide range of authentic Turkish and Mediterranean food made with fresh ingredients. Seating options include indoor dining plus a spacious patio area outdoors with several tables shaded by umbrellas. You can enjoy a wide variety of kebabs, soups, appetizers, and Turkish pizzas. Your dessert choices include baklava with pistachios, kunefe (baked shredded wheat stuffed with cheese), and kazandibi (milk pudding that is slightly burnt on the bottom). Good value and hearty portions ensure that you leave happy and satisfied.
Washington Square Tavern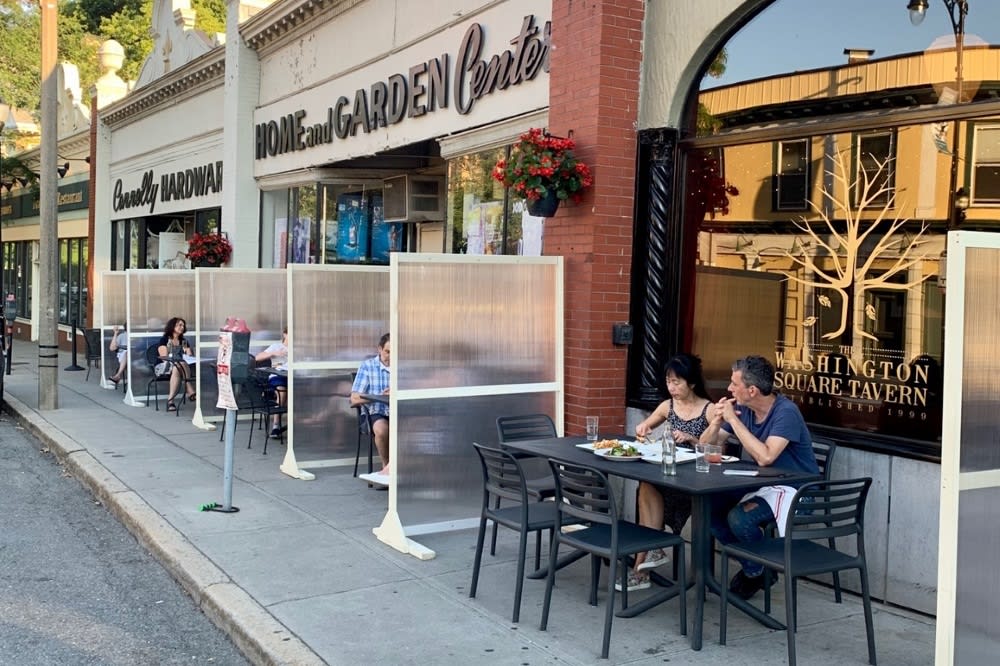 Washington Square Tavern
is considered a neighborhood gem by nearby owners of Brookline homes and condos. Loyal guests rave about the delicious food, excellent consistency, and friendly, hospitable staff. You will want to come early or make your reservation well in advance as there are reservation limits for indoor dining as well as seating outdoors under the covered deck or in the open area. Starters include a charcuterie plate, octopus, crab cakes, and several salad options. A great wine selection and signature cocktail menu will allow you to make the perfect pairing with your entree.
The Abbey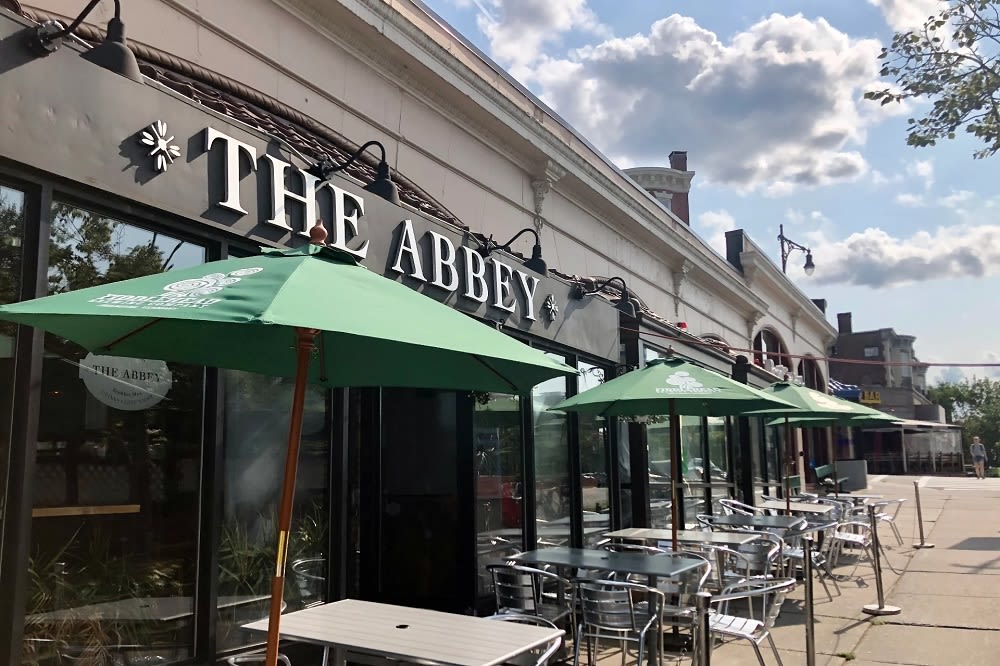 The Abbey
is Brookline's go-to spot to enjoy a twist on classic bar fare in a cozy atmosphere. They offer a variety of daily menus that include small plates and interesting entrees from bison bolognese to wild boar sausage. A robust, gluten-free menu ensures there are plenty of options for those with food sensitivities. They also have a large drink menu, including beer, wine, scotch, mixed drinks, and spirits. The covered patio provides a relaxing place to enjoy your meal, rain or shine, served by a friendly and attentive waitstaff..
La Voile
If you crave French cuisine when visiting Brookline, be sure to try Washington Square's
La Voile
. Considered one of the best French restaurants in the area, here you'll find an amalgam of French classics, from appetizers to desserts. They offer a diverse menu of appetizers, lunch and dinner options, and an extensive wine list. (A wine flight is available for those who wish to sample several varieties.) Weather permitting, you and your guests can enjoy your escargots, foie gras, and sole meuniere outdoors, where seating is available, either open-air or situated under an umbrella. At La Voile, you'll enjoy award-winning French cuisine in the atmosphere of an authentic French bistro.
Tatte Bakery & Cafe
Brookline boasts two locations for the popular
Tatte Bakery & Cafe
. The original Beacon Street location opened in 2008 in a quiet neighborhood between Coolidge Corner and Boston's Back Bay. Today it features an outdoor patio or indoor seating with an open view of the kitchen. Tatte's newest cafe is in Coolidge Corner on Harvard Street. Both locations offer multiple options, including a wide variety of coffee drinks, croissants, and pastries. Stop by in the morning for a number of tasty breakfast menu items, or come in later for a tasty lunch. A brunch menu is available on the weekends.
At Tatte Bakery, the array of food and drink choices is so diverse you're able to try something new every time you visit — all of them delicious.
Barcelona Wine Bar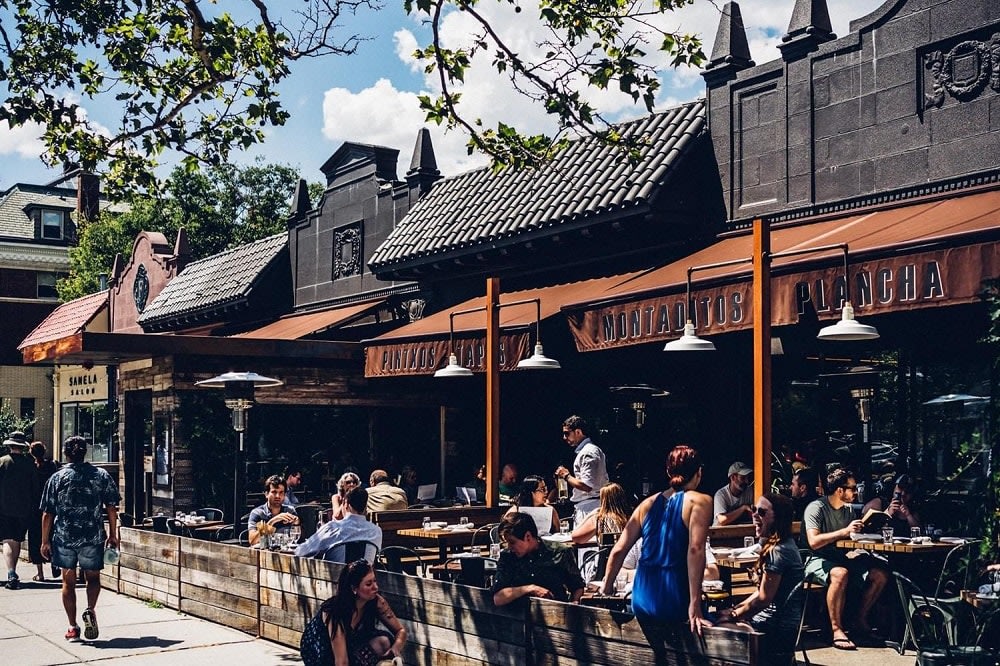 Located on Beacon Street,
Barcelona Wine Bar
is your stop for a taste of Spain in the middle of Brookline. This tapas bar features an ever-changing menu with a wide selection of award-winning wines from Spain and South America. Barcelona Wine Bar features one of the largest Spanish wine selections within the United States; however, they also have a wide variety of beer and cocktails. The heated patio provides a cozy backdrop for a night out with friends or just a place to unwind after a long day. Just be sure to make reservations first. Barcelona Wine Bar is a popular place, and it gets busy.
Zaftigs Delicatessen
Breakfast all day is a popular draw at
Zaftigs Delicatessen
, a Brookline tradition where they serve everything from a wide range of omelets to traditional Jewish deli items, including bagels and lox. Located in the heart of Brookline on Harvard Street, Zaftigs is popular for a good reason — the portions are generous, the servers are friendly, and the food is well-presented. In warmer weather, outdoor seating options are available.
Contact an experienced Brookline real estate agent
Foodies, rejoice. If you love outdoor dining, Brookline is the place to be. With so many fine eateries around town, you may decide that this is the perfect place to call home.
Whether you are searching for a stately Brookline condo or are considering a
Brookline luxury home for sale
, be sure to work with a real estate agent with in-depth knowledge of Brookline and the Greater Boston region.
Corkin Cantor Group
is an experienced team of Coldwell Banker Realty agents who provide exceptional service.
Contact them today
if you're ready for help finding your perfect home in Brookline!